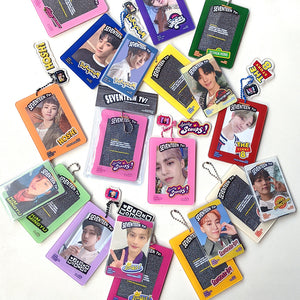 Rattled Studio
SVT TV PC Holder
Regular price
$8.90
$0.00
Unit price
per
SVT TV PC HOLDER by Rattled Studio!
===========================
Slide for complete spec information
⭐ Size:
- Photocard Holder Outer Dimension: 7 x 10 cm
- Inner Dimension: 6 x 9 cm
Fits standard official photocard size + standard size sleeve
**sleeves that are too big might not fit
⭐ Material: Acrylic + Silver Ballchain
⭐ Package includes:
- 1 pcs photocard holder (double sided)
- 1 pcs slide card
- 2 pcs photocard frame freebies
- 3 pcs ticket sticker freebies
(random 3 out of 14)
.
.
PLASE READ BEFORE PURCHASE
-  UV printing is grainy in nature therefore it is not a product defect
- White ink is used to create a solid print which can create a white edge on the design, this is not printing damage
- We try our best to display the real color of the products, however, a slight color difference of the actual product from the displayed photos might occur because of the user's screen calibration or the printer ink calibration. 
- The edges of the holder might be uneven because the holder consists of 3 layers of acrylic sheets that are attached together by hand. Tolerance for grade A is 1~2mm. We hope for your understanding
- All stocks have passed quality control by rattled studio and our manufacturer's standard
========================
Design and concept by Rattled Studio. 
Seventeen TV is a tribute to and parody of our favorite childhood shows: Kim Possible, Totally Spies, Power Puff Girls, The Fairly Odd Parents, Toy Story, Jurassic Park, Looney Tunes, My Little Pony, Pokemon, Garfield, Sesame Street, Scooby Doo, and Cartoon Network. We do not own the original logo assets and no copyright or trademark infringement intended.
.
Do not trace or copy.
---